Crazy ideas of Teacher's Day Celebration in this Lockdown
MrCake
The teacher is the first person to unlock our brain, and a day dedicated to him/ her can not be the same as any other day. On 5th September every year, students across India celebrate Teacher's Day. As years passed by, people started celebrating this day with utter dedication and pure respect.
With Teachers Day round the corner, most of the students and ex-students are in a state of dilemma about how to make the day memorable with an astonishing celebration. As we all know, the year 2020 is stuffed with the strict norms of Nationwide lockdown, but there can be no hurdles when you are mentally prepared to dedicate a day to your teacher. If you are in Delhi you can order cake online in Delhi and arrange for all the stuff sitting at home.
We have given here a few out of the track ideas and Teacher's day cake ideas to make the celebration worth the day. But to add another level of uniqueness, you can modify these ideas or add a layer over these.
A short film for Teacher's Day
As a student, this is the best and the easiest way to put a smile across the face of your teacher. Make a short video with the old photographs, especially ones where he/ she is seen with his pupils. You can also add testimonials of his old students if you can collect them personally. Putting up these pictures and testimonials in the form of video will be the best shot at making him happy.
Decorations
The entire celebration will look dull if you are not paying heed to decoration. Now on Teacher's Day, you can make flashcards with eye-catching lines and some fun portraits. Your celebration will look well ahead of time if you hang those flashcards from the ceiling with the help of colorful ribbons. A red carpet, with rose petals spread over it, will add to the royal look of your celebration. Moreover, you can also take a break from the normal light used and instead put up some colored fairy lights to give a cozy feeling to the room. Balloons, streamers, and wall stickers can also be in your wish list of decoration ideas. But make sure, you do not over-decorate the room so that it looks untidy.
Teacher's Day Special Cake
A day for your teacher is practically incomplete without a mouth-watering cake. There are many online cake windows that deliver cakes in Delhi and its suburbs. So, you can easily order cakes online well ahead of time, mentioning the delivery date, time, and venue you need it. For a variety of Teachers day cake ideas, you can peep into this online bakeries website and you will be stunned to see the unique flavors. To add a layer of cream to your celebration, you can opt for a customized cake. A cake like an open book or maybe with an imprinted photo of your teacher will certainly add a good memory to the celebration of Teacher's Day 2020. So, depending on your budget and personal choice, you can easily order cake online.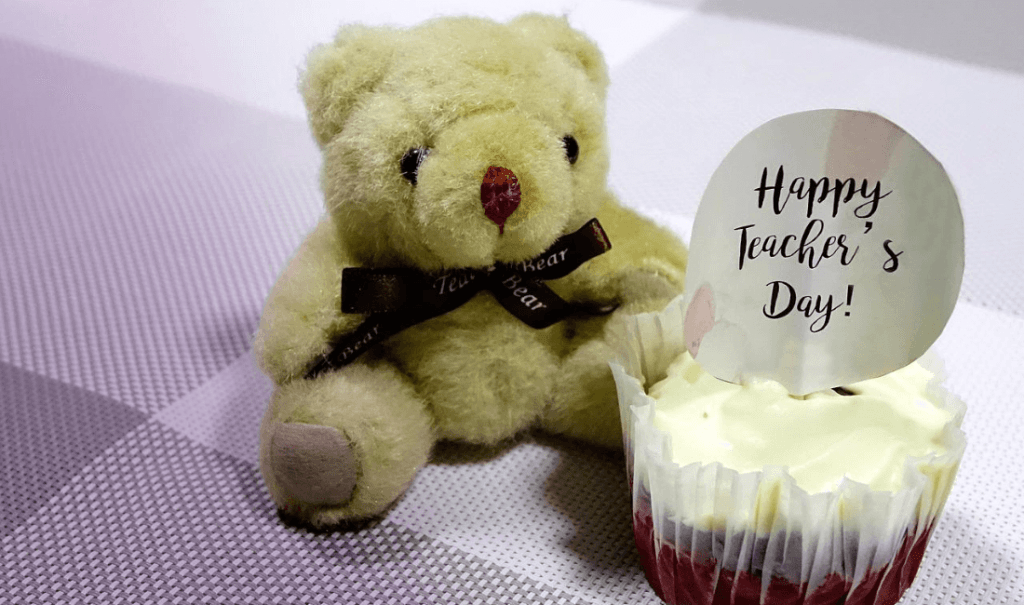 A gift for your teacher
The best gift to give your favorite teacher is a new life. Doesn't it sound interesting? A small plant with some messages written on a flashcard is one of the best yet cheap gifts to your teacher. Your teacher will remember this celebration of yours even after a decade, the plant will grow to a tree and remind him of his students. You can also give certificates like "Best Teacher" or "Funniest Teacher".
Stage performance
If you have the ability to do stage performances in front of your teacher, it is the best way to entertain him for the evening. Mimicry of the teachers can be conducted by students but permission must be taken before that. You can also perform a drama of scenes in the classroom which is way very entertaining for any teacher. Live music, dance, and even stand up comedy can be performed to make the day worth it.
Conclusion
These are some basic crazy ideas of the Teacher's Day Celebration and it is always expected you make it spicier to add to the uniqueness of your party. But another point to keep in mind, keep these plans and ideas away from the knowledge of your teacher. Your teacher should get to know these only when they are implemented because suspense adds a flavor to the entire celebration.
Originally posted 2020-08-28 12:09:48.